---
Seed Treatment may Prevent Second Growth
One of our producers wrote:
"First two photos are wheat with lots of second growth. Second two photos are wheat grown a mile away with the Back to Your Roots Seed Treatment applied to the seed. The second crop is much more even in height and is maturing at the same rate overall. We will not need to desiccate this crop."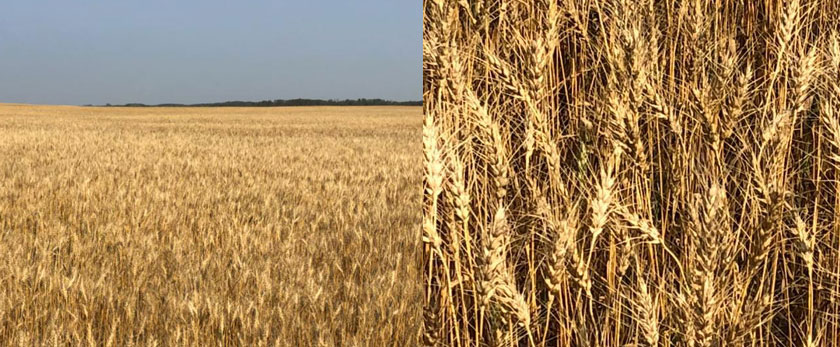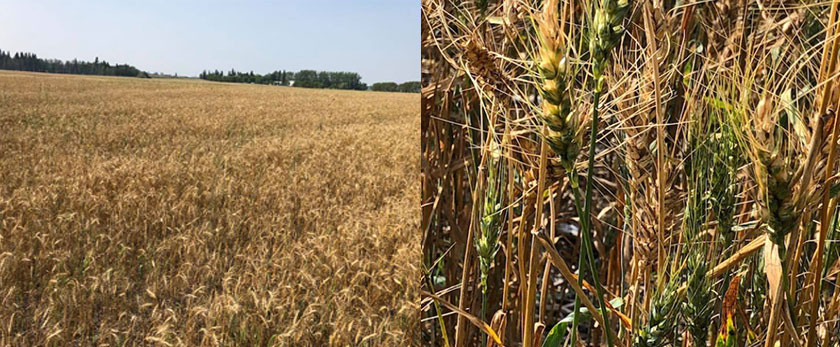 ---
Products Can Help with Weed Pressures
Organic oats. Previously this quarter was covered in mustard and wild oats but with use of the BTYR program this crop is looking nice and clean! Aerobic zone is about 2-3 inches and weeds are failing to thrive. The producers are so happy with the progress they are seeing each year. The BTYR program has helped them in the transitioning process and they are gaining soil health knowledge along the way!

---
Products Can Help Transition to Organic
Here is an organic wheat field near Shellbrook, SK on the Back To Your Roots program, first year organic, very low weed pressures. This quarter once had abundant weeds, grasses and foxtail. The center and south end had standing water with no drainage or growth. With the increase in soil health and an aerobic zone of 6 inches or better drainage is no longer a problem and crop is starting to grow there again. This is just one example of what fixing your soil can do for your future crops. It's wonderful to see the program in action!
We can help with transitioning to organic and make your goal more attainable so you don't lose revenue in the process.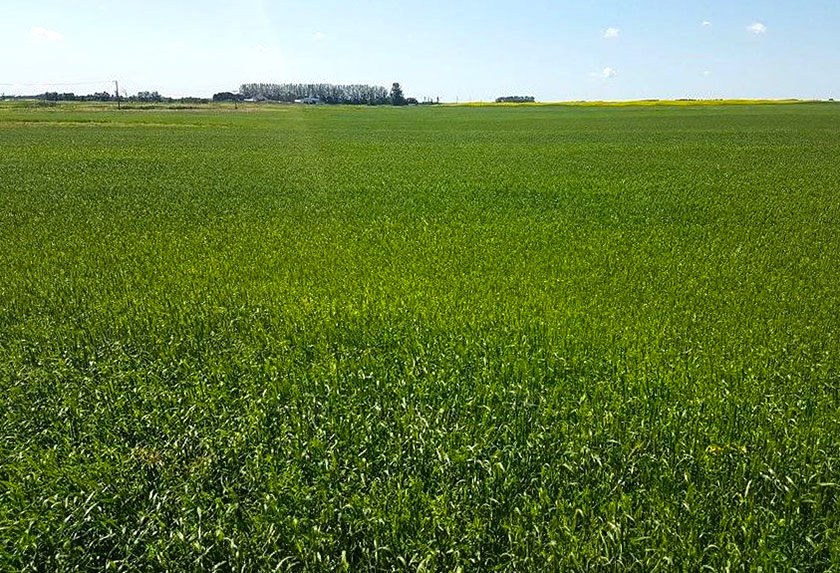 ---
High Sodium = High Electrical Conductivity
These weeds are trying to grow in an environment with an electrical conductivity of 3000 ergs. High EC is generally due to high sodium in the soil which can lead to burning of the plant's roots and be detrimental to the soil microbes.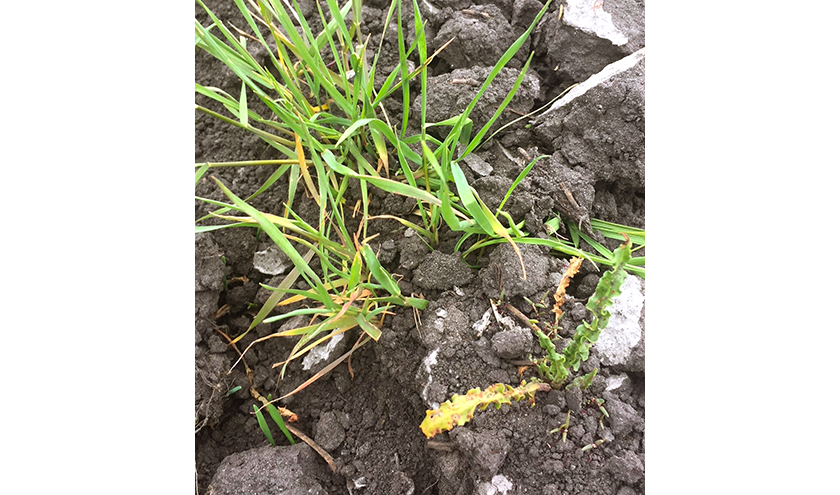 ---
Clean Wheat Nearing Maturity
A post from Noah Olson of Medstead, SK
"Wheat grown on Back to Your Roots soil fertility program. You can see the few weeds that were growing there are not doing so well, all that was used for weed control was a foliar application of some phosphorus, silica, humic acid(carbon), fish emulsion, microbial tea(soil biology) and molasses. Weeds don't like clean sources of minerals and carbon, but these elements are what is required for crops."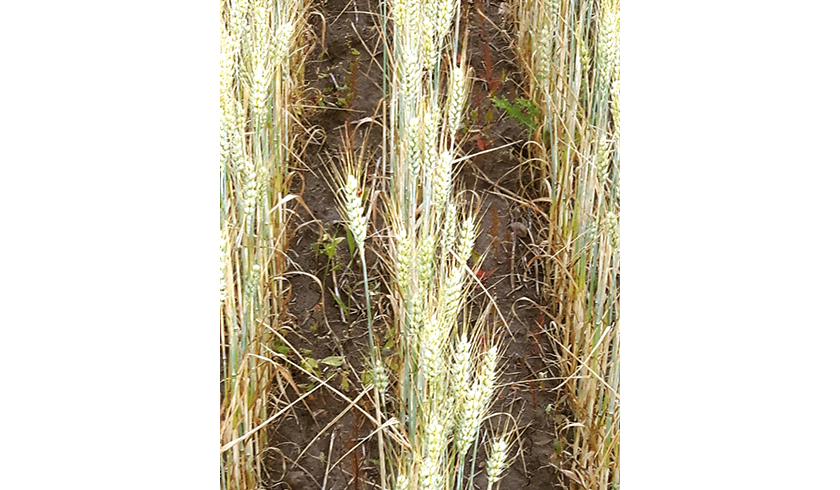 ---
Seed Treatment Results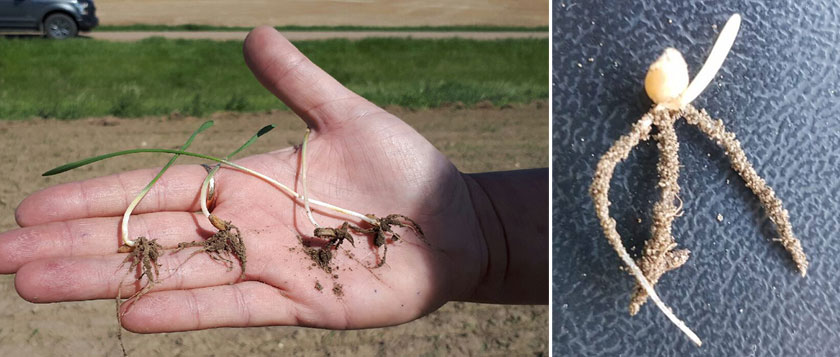 Above left: Seed treatment vs. no seed treatment. Above right: Hard Red Spring Wheat with seed treatment, 3 days after seeding.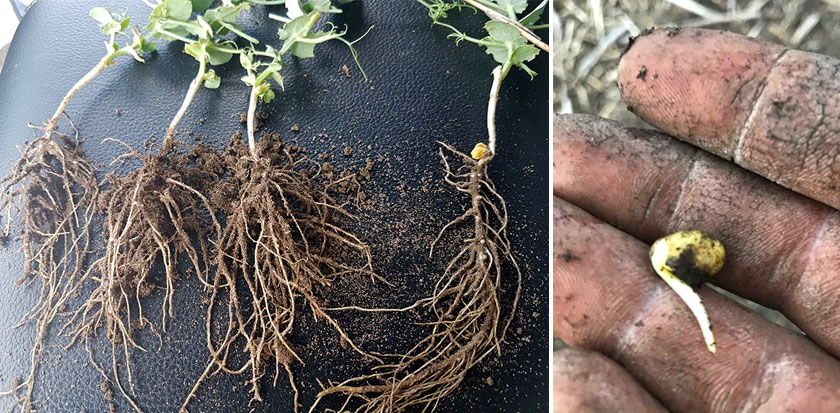 Above left: Peas with seed treatment - great root development. Above right: Seed treated soy bean 55 hours after planting.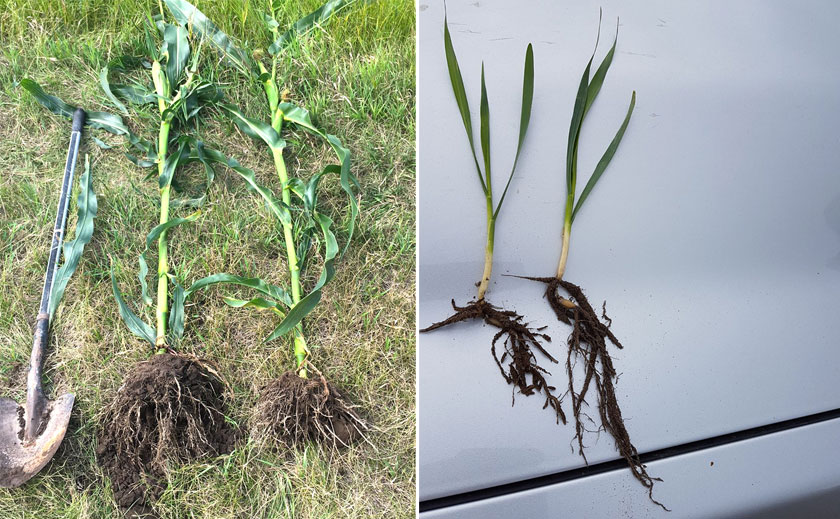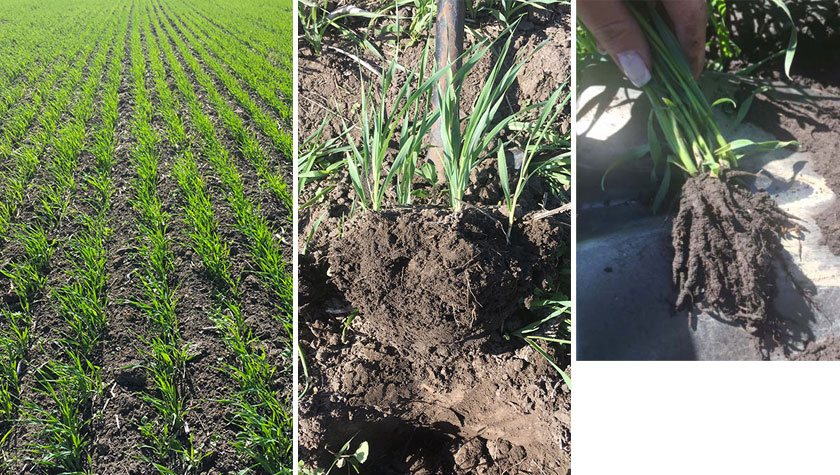 Above left: BTYR seed treatment on the entire field. Above middle: Same field as left, roots 5 inches down. Above right: Seed treated - beautiful aggregates!